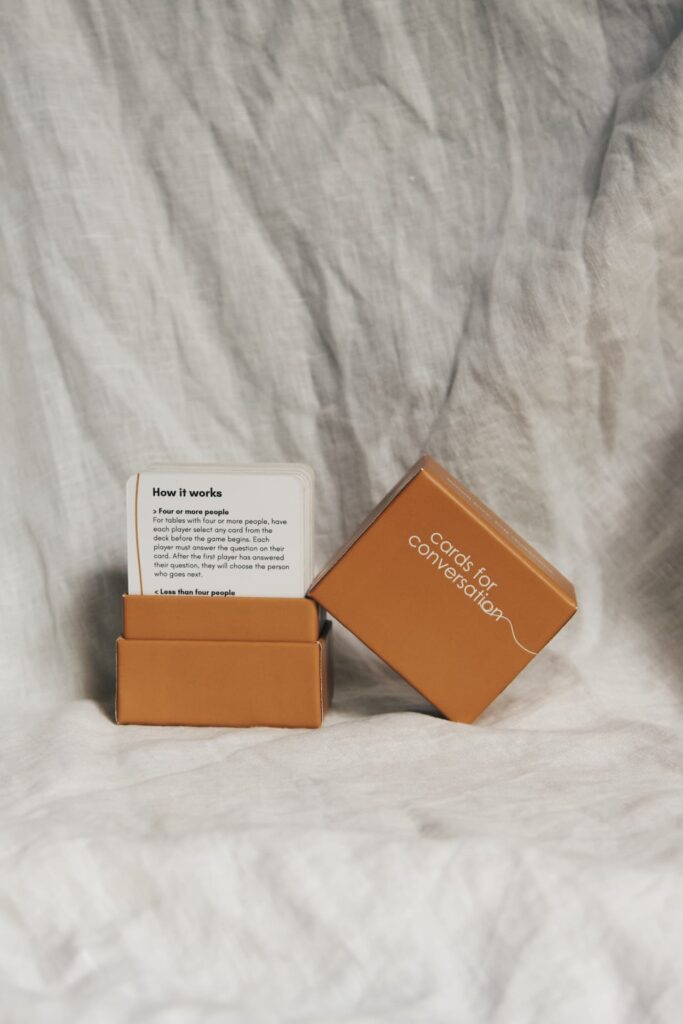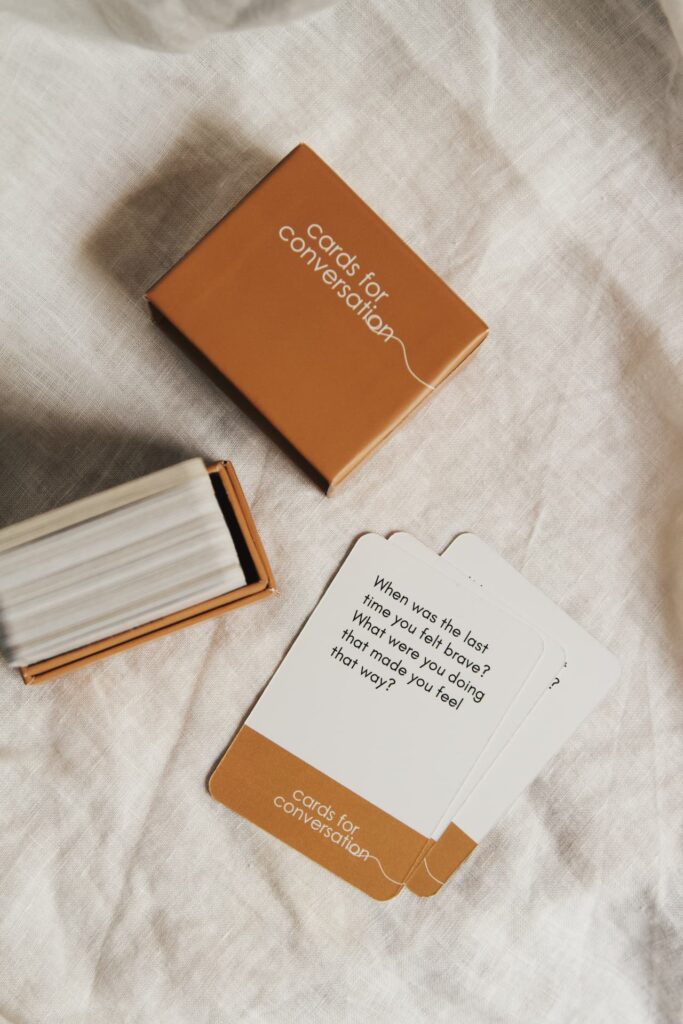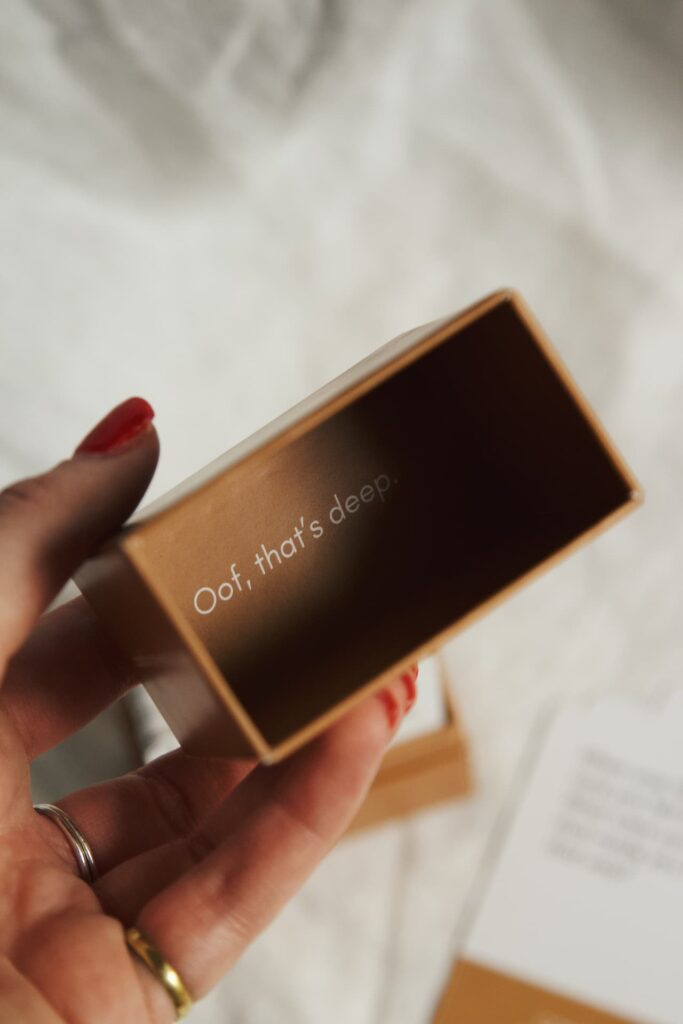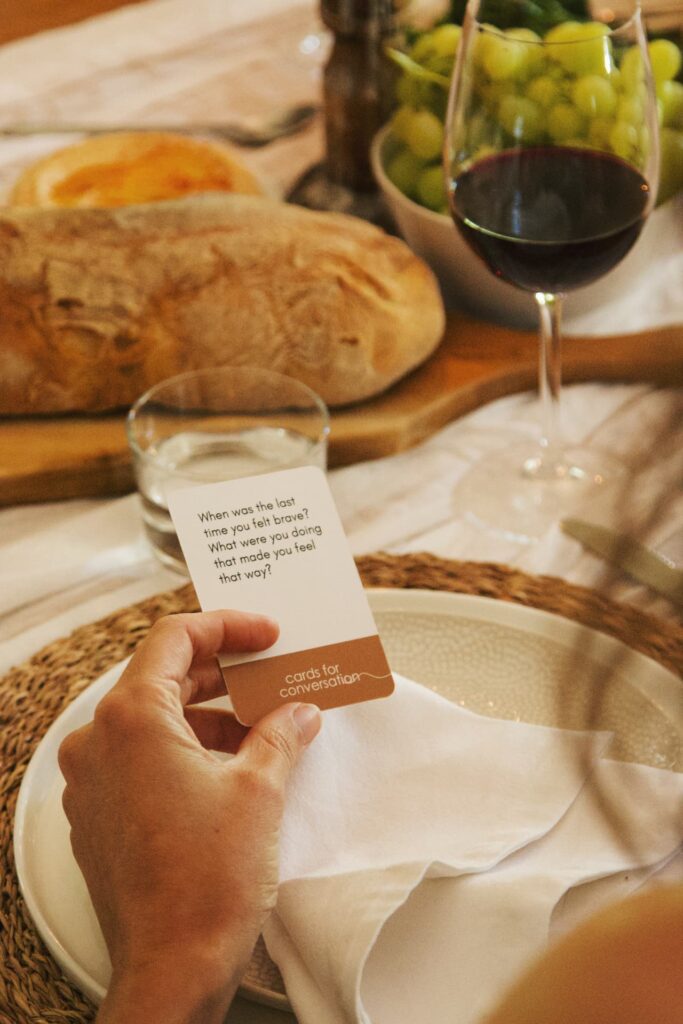 Cards for Conversation
52 prompt cards that will teach you how to listen, encourage, and share in conversations that dig deeper than your typical chit chat. Play it with family and friends, or people you've just met – either way, you're about to know them on a much deeper level.
Cards for Conversation Reviews
4.9 out of 5 stars (based on 10 reviews)
I love love love cards for conversations it is the best! I bring it everywhere with me
This game is so important. It makes hard things (read: vulnerability!) fun and approachable. Every time I play I learn something new about my friends and myself.
I'm a sucker for a good old DMC and Cards for Conversation have allowed for such beautiful moments this year with people from all walks of life, going beyond the standard surface level questions and really allowing you to KNOW and SEE someone! A must have!
These questions have allowed me to form deeper relationships with strangers (who are now family) vs. friends I have know for years. Some of my favorite memories of this year are around dinner parties with these questions.
Can't rate this highly enough!
I love games & this has fast jumped to the top of my list! These cards have been a game changer at creating deeper relationships with new & old friends.
If you struggle to broach hard topics, want to get to know your parents as people not just parents or hate small talk this is the card game you need in your back pocket!
Buy it NOW!
Love it! Doesn't get better than crying at the table in front of strangers.
It is a very casual and fun way to not only drive deeper conversations between friends at a dinner party , but also deeper conversations with yourself when you are on your own.
Absolutely Brilliant!!! Intentional questions, which lead to great conversations, friendships and so much more 🙂
Absolutely love Cards for Conversation! It makes deep, intentional connection easy, especially for those of us who struggle to find the moments to share, or who don't usually open up to others.
It has taken friendships from new / surface level to deeper heart levels so quickly. It's wonderful!
The game you want at your dinner table. It allowed me to process things I didn't even know I needed to. It creates a space for people to share and learn to listen.